Modern meets rustic in this minimalist Hudson Valley retreat. Situated not far from Niche HQ, this 1,000-square-foot wooded weekend getaway incorporates original stone walls common to the area, reinforcing the cozy cabin vibes. We first stumbled upon this project on Dwell, and we couldn't help but share the stunning single-story structure with you. Designed by TAKATINA, a Putnam County-based husband-and-wife team, this home is the idyllic sanctuary for the duo's clients.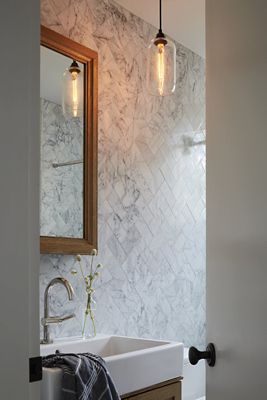 The entire home features a minimalist aesthetic, with simply-furnished rooms and large windows that allow the natural surroundings to be the main focus. The bathroom, which is fitted with herringbone-patterned white marble tile walls and a custom oak vanity, also includes a single Helio pendant in Crystal glass, helping to create an elegant and calm setting that mimics the overall feel of the encompassing environment.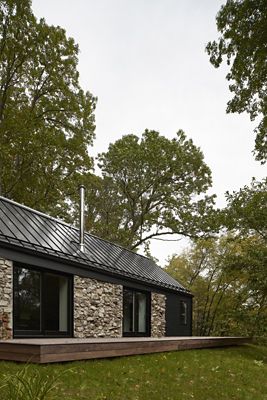 We love discovering projects with our handmade lighting, especially when a design as breathtaking as The Stone House is situated in our backyard. There is something so inspiring about supporting local craftsmanship, and we can't thank all of you enough who have incorporated us in your work. Are you a designer in the Hudson Valley? We want to hear from you to discuss the opportunity to collaborate in the future.

Modern Bathroom Lighting Project Details
Project Name The Stone House
Location Hudson Valley, New York
Architecture and Interior Design TAKATINA, Peter Weed Architect
Structural Engineer John Stinemire, P.E.
Photographer Mikiko Kikuyama
Products Used Helio pendant in Crystal glass