Located in Barcelona, Spain, this open concept kitchen by TPC Cocinas features a patterned ceramic backsplash and colorful appliances, which pair beautifully with Niche modern pendant lighting.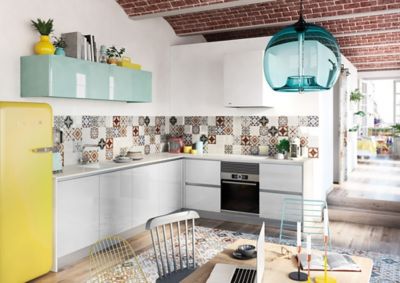 A single Stamen pendant in Condesa glass hangs over the kitchen table in this home. The beautiful blue hue of our Condesa glass adds a burst of brightness to this interior while complementing the colorful accents featured throughout the space. Stylish appliances, open layouts, and Niche modern lighting come together here to create a dynamic and playful interior. View other spaces with contemporary Condesa glass.
The Stamen modern pendant light is truly the signature pendant of the Niche line, redefining the parameters for hand-blown glass by curving around voluptuously and tucking into itself unexpectedly. Watch our Stamen pendant being made from start to finish in a video feature for Esquire's "Handmade" series, a catalog of online videos featuring some of the most interesting handmade products.
Modern Kitchen Lighting Project Details
Project Name Crystal Aguamarina
Location Barcelona, Spain
Kitchen Fixtures TPC Cocinas
Construction Joviesca S.L
Products Used Stamen pendant in Condesa glass