Clique Media Group, a media and commerce company that operates online lifestyle platforms such as MyDomaine, WhoWhatWear and Byrdie, called upon interior design firm Felderman Keatinge to arrange their West Hollywood offices. Making productivity the focus of the new office landscape, Felderman Keatinge created a space that fosters open-communication and creativity among employees. Inside Clique Media Group's headquarters, Niche office lighting contributes to the minimalistic yet stunning layout.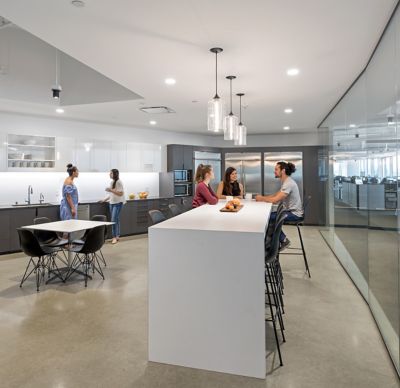 A trio of Bella pendants in Crystal glass adorns the break table in the kitchen, an area away from the typical desk or cubicle where productivity and relaxation can intersect. Our classic Crystal glass complements the office's sleek white interior, adding an elegant and sophisticated touch to this corporate but creative environment.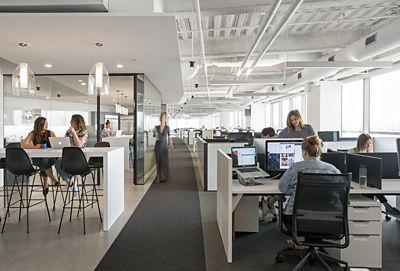 Pendant lighting is a bright idea for a work space. Your office is where your creativity comes to life and we want to encourage that creative force with our handmade glass lighting in unique shapes and luxurious glass colors. Office pendant lighting works well above individual desks, in clusters above a conference table, or in break rooms. Get inspired by other office pendant lighting displays.
Modern Office Lighting Project Details
Project Name Clique Media Group
Location West Hollywood, California
Interior Designer Felderman Katinge
Photographer Jasper Sanidad
Products Used Bella pendants in Crystal glass