Be Original Americas is a campaign devoted to educating and influencing design professionals and manufacturers on the economic and ethical value of authentic design while protecting and investing in its future. Niche is a proud member, joining the fight with over 100 well-known and respected brands.
Be Original Americas is hosting a Design Fellowship. Over the course of seven weeks, this year's fellows, Nino Chambers and Claire Lin, have the opportunity to learn about all facets of creating innovative, high-quality products through hands-on, in-the-field learning. For two days last week, they spent time at Niche's headquarters and fully immersed themselves in our design operation.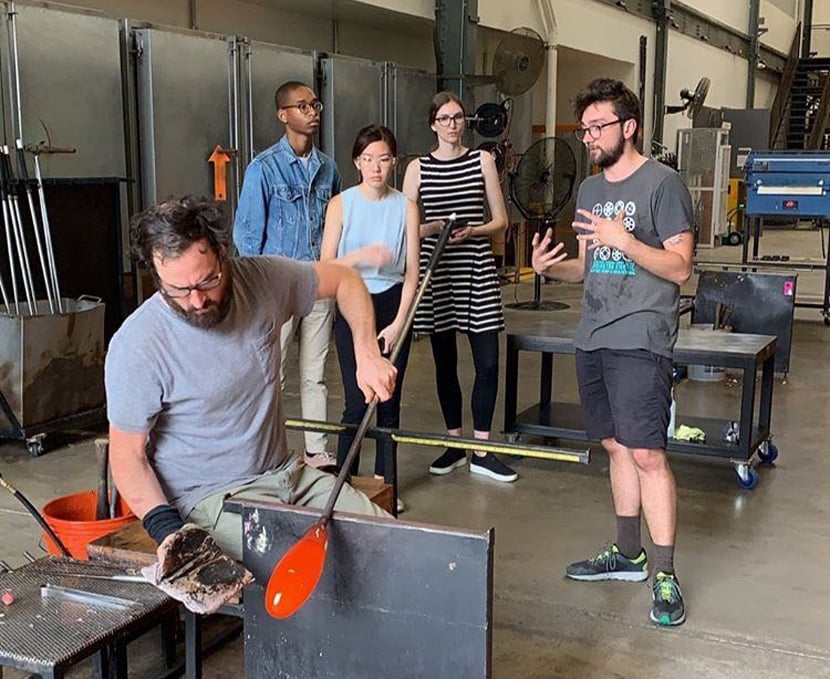 About NINO
Nino is originally from the South and goes to school in Alabama, where he studies architecture. We got to chat with him about his interest in the Be Original Fellowship and his experience at Niche.
What made you decide to apply for the Be Original Fellowship?

I actually found out about the Be Original Americas Fellowship from an Instagram advertisement. After researching the program, I was very intrigued in the comprehensive knowledge I would gain as a fellow. I wanted to be part of the fellowship because being able to visit and speak with so many industry professionals is a once in a lifetime experience that would be hard to accomplish alone.
What was your favorite part of exploring the inner workings at Niche?
My favorite part of exploring Niche was speaking candidly with the CEO & Creative Director, Jermey Pyles. His vision and passion for the business are very apparent. To then see the whole process from start to finish and the execution of his vision was extremely insightful and educational.
What is something you learned about glass-blowing that you didn't know before coming to Niche?
My take away from the visit at Niche is that glass-blowing is a "team sport" and it takes multiple hands and people working in sync to finish a product.
You can continue to follow Nino's journey on Instagram at @ninochambers.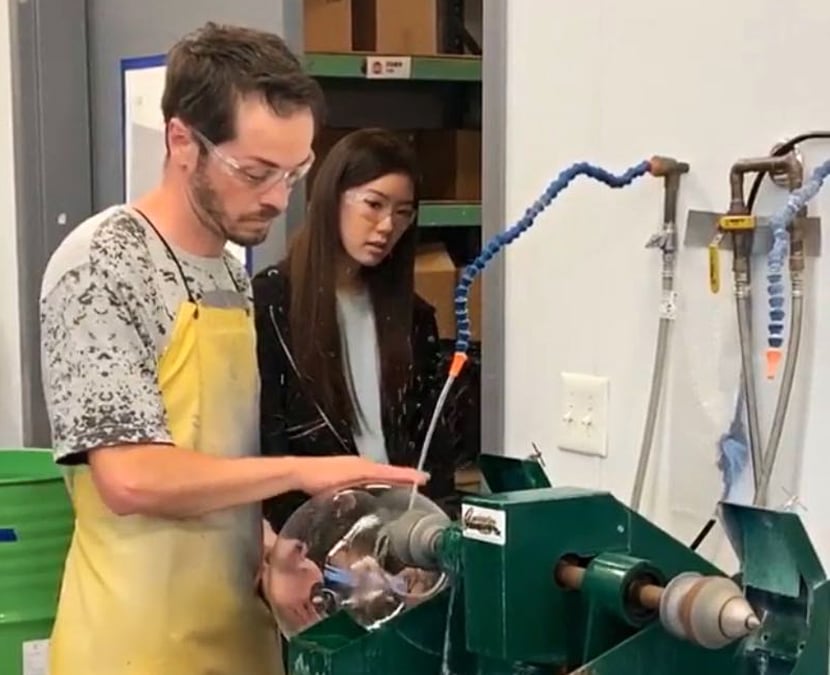 About CLAIRE
Claire is originally from Southern California and is studying Engineering in Rhode Island. Keep reading to learn about her take-aways from her time at Niche.
What made you decide to apply for the Be Original Fellowship?
The Be Original Fellowship focuses on the promotion and protection of original design with a focus on the furniture and fixtures industry. I have always been frustrated with the environmental and social impacts of low-quality knock-offs, but I wanted to explore the craftsmanship and thought behind original design to understand what makes these products timeless and high in value. The fellowship has allowed me to experience first hand the significance of original design through exposure to so many people and practices within the field.
What was your favorite part of exploring the inner workings at Niche?
I loved understanding how to operate a small business and to be efficient around challenging circumstances when they come up. Through our visit at Niche, I was able to understand how these glass-blown products seamlessly flow from the Hot and Cold shop to the client-base. Every person and role is integral to the company's growth and success.
What is something you learned about glass-blowing that you didn't know before coming to Niche?
I have always seen glass-blowing as an art, but I never saw it as a science! Through the production team, I understood how glass has so many unique properties. The chemistry and material science behind glass-blowing is also really interesting to me — such as how color in glass is created by the addition of heavy metals.
You can continue to follow Claire's journey on Instagram at @clairelinn.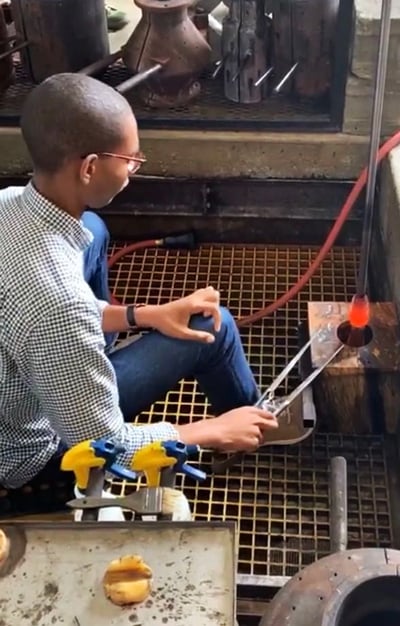 Their Time at Niche
Day 1 - Nino and Claire had a busy first day at Niche. When they arrived, they were met with a tour of our facilities. Afterwards, they went straight to the Hot Shop to assist with production. They then went to the Cold Shop, where they assisted in procedures such as drilling and hot popping, seeing the glass through to completion. And what would be a trip to Niche without a stop in the warehouse? Nino and Claire were able to see our extensive quality control process before the lights were packaged and shipped off to their new homes.
Day 2 - Nino and Claire returned for another full day, which started with a lesson from Zach, who works in Product Development. The fellows were able to see the design process from start to finish, from a designer sketch to a CAD model to a mold-making. Afterwards, they returned to the Hot Shop, where they jumped in the mold pit and got more hands-on experience with the production team. Then they were off to the marketing department to photograph the glass-blowing process and edit images for Instagram. Lastly, they stopped by to see our Sales team to learn about online ordering and shipping.
Nino and Claire were naturals at Niche, and we wish they could have stayed longer. But they both have plenty more to learn in the design world. Best of luck, and come back soon!