Each glass pendant light that comes from Niche is handmade by real human beings. Our team of experienced glass artisans take great care in delivering a product of timeless beauty with the highest standards of craftsmanship in mind. But have you ever wondered exactly what our team of glass-blowers does in the Hot Shop to create luxurious modern pendant lights? Lucky for you, we have defined 5 important glass-blowing terms to help you better understand all the work that goes into crafting a Niche product before it gets to your door.
Color Dropping
A solid bar of color is heated to a high enough temperature to turn into a liquid state. The pipe is then lifted overhead (pictured) while gravity pulls the solid color down onto a second pipe. The second pipe eventually gathers more glass, which is later blown into one of our luxurious handmade glass pendants.
Flashing
As the glass is handled and finessed, it cools, which can potentially cause it to crack. To avoid this, the glass needs to be heated every so often. When more heat is needed, the pendant enters the glory hole, a large, partially open cylindrical furnace used to generate high heat for this purpose. The act of enveloping the pendant in the heat of the glory hole is known as flashing.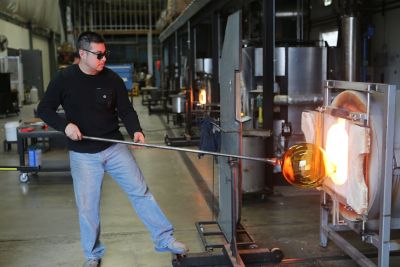 Puntie
When a pendant has a signature tuck like the Stamen, Pod, and Aurora pendants, the glass needs to be flipped over end-to-end on the pipe. A puntie is created when a small amount of glass is gathered at the end of a second pipe. It is attached to the center-point of the glass pendant, which then enables it to transfer from the first pipe. This exposes the other end of the pendant to be hand-finished.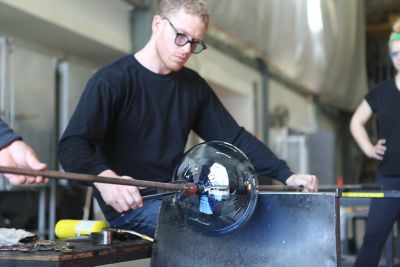 Wrap
A wrap is used to protect the freshly blown glass pendant when cracking it off the pipe. The end of the pendant is shocked with water to concentrate cracking at that location. Sometimes (like many handmade treasures) it doesn't always go according to plan. Cracking can splinter toward the pendant and potentially ruin the entire piece. To ensure this doesn't happen, a wrap (a small gather of glass on a pipe) is used to stop cracks from traveling up the glass.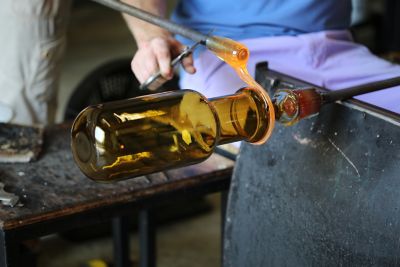 Boxing
When a pendant is ready to come off the glass pipe, a Niche member suits up with heat-resistant gear and holds the glass as it cracks off the pipe. Then it is "boxed," or put into the annealer to be gradually cooled and later coldworked.