The Crystalline Series contains silhouettes that combine bold hues with defined angles to create playful contemporary lighting. When hung in clusters, these silhouettes create unique and eye-catching modern lighting displays. Here are three projects that incorporate geometric pendant lights above a kitchen island.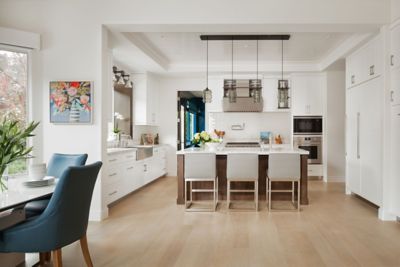 This Atherton, California home by Architect John Cinti and Interior Designer Courtney Heaton features four Delinea pendants in Gray glass above the kitchen island. The hand-blown lights hang from a Matte Black Linear-4 Modern Chandelier, which allows you to easily combine any four pendants with a single electrical junction box. The color, shape and drop length are up to you, making each installation unique. Image courtesy of Agnieszka Jakubowicz.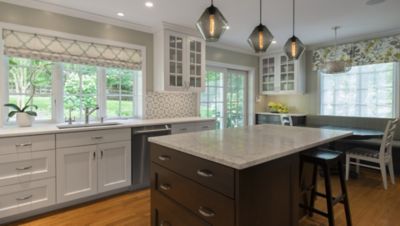 Saltbox Design added a trio of Trove pendants in Gray glass above this kitchen island. The neutral color of our classic Gray glass complements the marble countertop, patterned backsplash, and upholstered bench in the breakfast nook. The bold angles of the Trove pendants add a playful touch to this contemporary kitchen.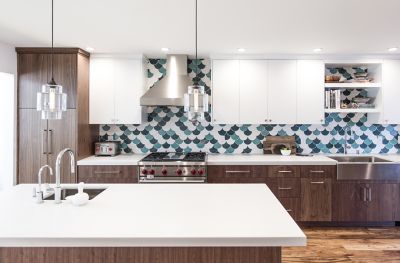 Two Axia pendants in Crystal glass hang above the kitchen island in this Dorado Terrace Residence by K Interiors. Our signature Crystal glass complements the white countertop and cabinetry, while the bold shape of the Axia pendant complements the colorful geometric backsplash.

Do you have Crystalline pendants in your kitchen? Send your awe-inspiring images to us for a chance to be featured on our blog and social pages!