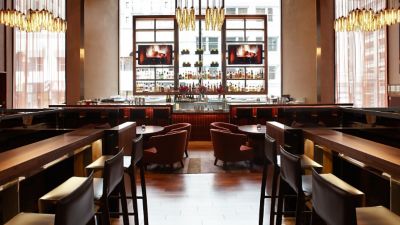 Normally, September 9th isn't celebrated unless it's your birthday or your kids just went back to school. But what better way to honor the date 9/9 than to feature the Niche Pack 9 Modern Chandelier? Sleek and simple, the square compact chandelier groups nine Pharos or Helio pendants into a unique cluster of light.
The Pack 9 lines a bar top beautifully when hung in multiples, as seen above in the OneUP Lounge of the San Francisco Hyatt Hotel. Using more than one chandelier adds grandeur and an intimate glow to any space.
The Pack 9 Modern Chandelier is an ideal centerpiece that can be showcased above a round table. Its density brings focus and emphasis to the space while emitting a warm aura of light. The Wallenius Willhelmsen office (above) pairs Pharos pendants in Gray glass with a Pack 9 Modern Chandelier in the White metal finish to complement the neutral tones throughout.
The Pack Modern Chandelier Collection is available in a variety of metal finishes that easily pair with a wide array of glass colors. Hang them straight, or try cascading pendants at different heights to add length to your chandelier.