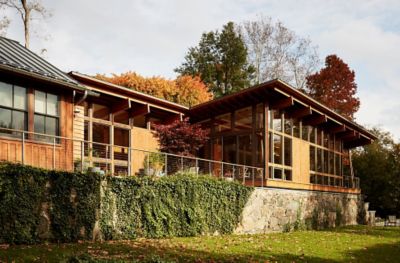 Ole Sondresen is the principal architect of his firm that consists of a highly motivated, multi-talented, and international staff. Based in New York City, his team strongly believes design should be sustainable as it directly impacts building inhabitants and energy costs. All of Sondresen's projects incorporate the use of reclaimed, salvaged, or recycled materials, natural light, and efficient lighting, appliances, and systems, whenever possible. For Sondresen, good design means choreographing the movement and activities of people in the space, and how the components of the building will function with the individual and as a whole. With their collaborative design culture, intensive client interaction, and talented consultants, engineers, and craftsmen, it's no surprise Sondresen's projects are one of a kind and built to last. Peek inside one of them now, the Sands Point House located on Long Island's north shore, the Gold Coast, nicknamed from its historical affluence.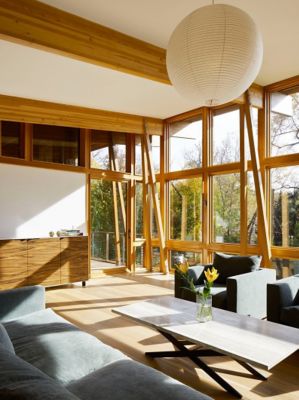 This light-filled home combines a renovated 19th century farmhouse with a new wood and glass addition cantilevered above an existing stone wall. The roof support beam exposed throughout the home are made of Douglas Fir glu-lam (glued laminated timber) that is pound for pound, stronger than steel, and has a greater strength and stiffness than comprable lumber.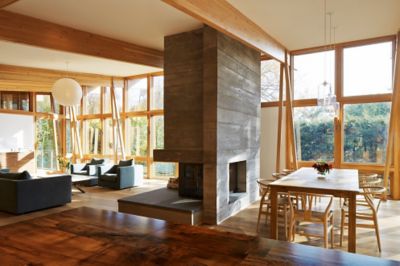 A custom board-formed concrete fireplace separates the living room and dining areas. There's a glimpse of a familiar form suspended over the dining room table. Could it be?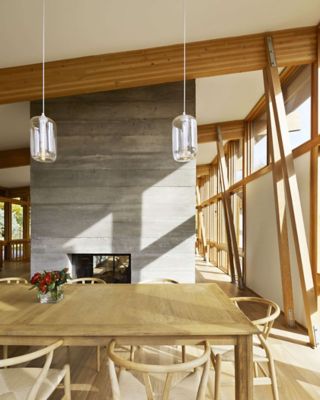 It is! A row of three Niche
Pod pendants
hang above the warm and welcoming gathering space. Elegant and simple in our signature Crystal glass, they catch the light and reflections from every direction, adding another dimension of luminescence to the sun-drenched space. In the kitchen, the wood paneling that comprises the cabinetry, also makes its way to the ceiling, again causing light to brightly bounce from every angle.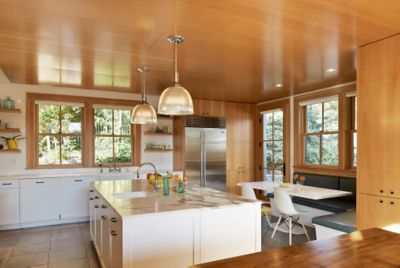 Even with floor-to-ceiling bedroom windows, there's no need to worry about the sunlight disturbing early morning slumber, thanks to the cozy bed nook. Made of salvaged wood, the nook adds a rustic edge to the otherwise streamlined bedroom.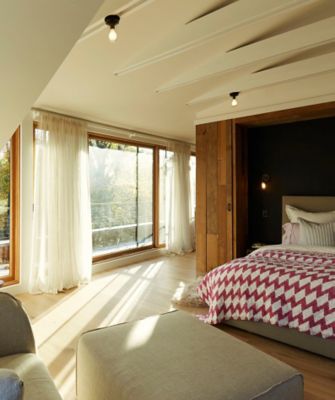 A terraced garden and patio wraps around the perimeter of the home, and sliding glass doors are placed throughout each room to encourage integrating with the outdoor space. Be sure to explore more of Sondresen's stunning, sustainable projects
here
and don't forget to
shop
our classic Pod pendant!