Located in the Smyth Hotel and designed by Bromley Caldari Architects, this downtown Manhattan apartment provides a comfortable place to live, work, and entertain guests. Inside, kitchen island pendant lights create a simple but stunning centerpiece of hand-blown glass lighting.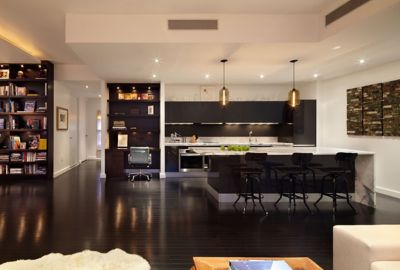 Two Pod pendants in Smoke glass hang above the island in this open concept kitchen. The Pod modern pendant light funnels light delicately through its long, cylindrical shape and is finished with our dramatic, signature inward curvature. Our signature Smoke glass stands out against the dark hardwood floors, black cabinets and stainless steel appliances while complementing the white walls and marble countertops.
Are you hanging more than one pendant above your kitchen island? Try using the Linear-2 Modern Chandelier, which allows you to easily combine any two light fixtures with a single electrical junction box. The color, shape and drop length are up to you, making each installation truly unique.
Modern Kitchen Island Lighting Project Details
Project Name Smyth Apartment
Location New York, New York
Architect Bromley Caldari Architects
Products Used Pod pendants in Smoke glass