Having a dedicated workspace at home is beneficial for so many reasons; rather than sitting on your couch or bed, an office helps facilitate productivity and eliminate distractions. A bright, organized space is essential to consider when designing an office. Hungerford Interior Design knows this, which is why they included a functional workspace in a recent renovation of a 1920's Tudor-style home.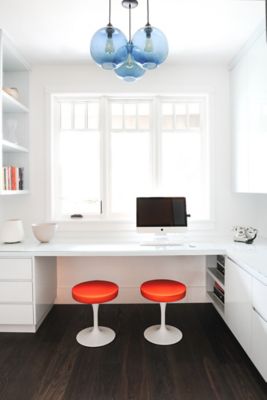 This Vancouver, British Columbia residence receives an abundance of natural light. But even with that, additional lighting is necessary — especially for when late-night inspiration hits and deadlines are fast approaching. Lighting in the workplace helps to eliminate eye strain and potential headaches that often result from staring at a computer monitor for long periods of time while adding a stylish element to the interior.
In this home office, a trio of Solitaire Pendants in Sapphire Glass hangs in the center of the room, adding a pop of color to the otherwise clean, neutral palette. "We chose the Niche Sapphire pendant lights for a fresh pop of color and to coordinate with the custom high gloss subtle blue millwork," Hungerford shares. The hint of orange accents also adds another fresh layer to this office while complementing the handmade blue pendant lights.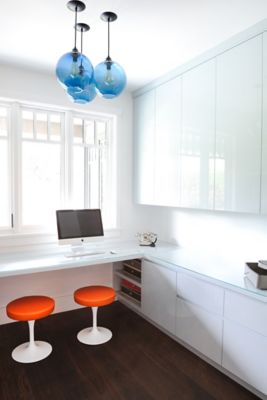 When designing your workspace, it is important to consider what inspires you. You will want to fill this room with your most inspiring quotes, pictures, and motivational tools, but don't overcrowd or clutter — this way every time you step into your home office, you're inspired to finish what you initially set out to do. This design from Hungerford Interior Design is the perfect example of how to create a clean, practical space. To see more home office ideas, visit our lighting inspiration page.

Modern Office pendant Lighting
Project Name Angus Complete Design and Renovation
Location Vancouver, British Columbia
Interior Designer Hungerford Interior Design
Photographer Tracey Ayton Photography > see more on social @tracey_ayton
Products Used Solitaire Pendants in Sapphire Glass