It was a dark and stormy night...and despite the ominous weather, supporters and spectators gathered to witness the opening of public art installation, Constellation last night. Local artist Melissa McGill presented the launch of her large-scale piece on a specially-made overlook near the Breakneck train stop off Route 9D between Beacon and Cold Spring. While the area is clearly marked with signs leading to the path, a neon-lit ice cream truck, Sweet Central Express, also marked the way. Guests parked along Route 9D or took the free shuttle buses to the viewing area. Huddled together in rain jackets and umbrellas, McGill took to the platform and introduced her project - a series of glass "stars" made by Niche, suspended on 40 to 80-foot high poles, creating the illusion of a constellation in the night sky and completing the missing pieces of the decrepit Bannerman Castle.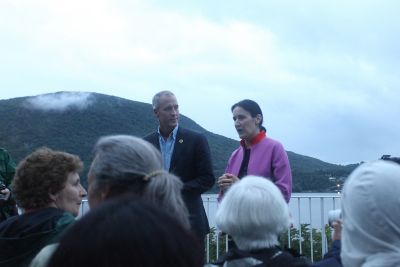 New York Congressman Sean Patrick Maloney also joined McGill on stage and emphasized the importance of art in community, and how art brings us together and helps us to celebrate the beautiful area we live in, the Hudson Valley. Though the sun wasn't making an appearance, the Hudson Highlands still looked beautiful amongst the mist, and Constellation was about to look marvelous as well!
Finally, darkness begain to fall over the foggy island and the first two "stars" graced the twilight sky. Though faint at first, the "stars" truly popped against the monochromatic clouds, mountains, shadows, and water.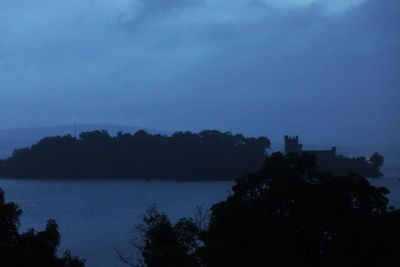 McGill encouraged the crowd to venture to different areas for their preferred view. Next to the viewing platform, there is also a foot bridge used for train passengers, which gave a different angle. This view obstructed most of the island, but the castle was silhouetted and framed between lush foliage. Occasionally, the MetroNorth train would speed through below the foot bridge. The train's sounds and the accompanying gust of wind added more sensory details of sounds and feel to the experience.
If you missed the opening, have no fear, Constellation is just getting started! The installation is on view every night for two hours, beginning when the sun has set, through summer 2017. In addition to this view on the east side of the Hudson River, it is also visible from the west side at the Kowawese Unique Area at Plum Point in New Windsor. For another adventure on the water, you can also enjoy the installation from a boat or kayak tour this summer! Tours include everything you need to know about the mystery and the history of Bannerman Castle and the island.
Constellation is a fiscally sponsored non-profit public art project created with help from individuals like you and organizations including the National Endowment for the Arts and the New York State Office of Parks, Recreation, and Historic Preservation. Donations to the project are ongoing and can be made here.