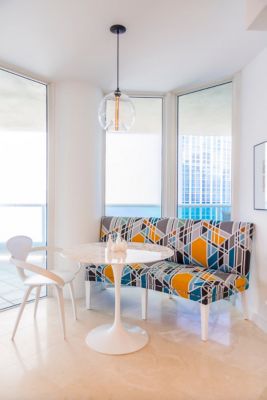 Melida Williams Interior Design Inc. is a Miami, Florida-based interior design firm specializing in boutique residential and hospitality projects. Melida is known for her unique approaches with texture, color, and pattern which turn abstract ideas into provocative designs.
This waterfront apartment interior in Miami plays off of the serene ocean views seen outside the wrap-around windows. A variety of patterns and textures in a palettef blue hues create movement throughout the space, mimicking the rhythm of the nearby undulating ocean waves.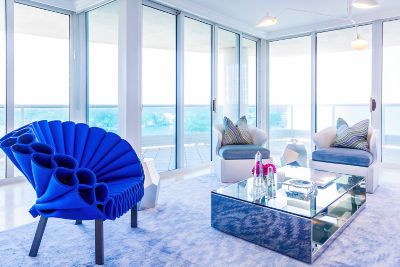 Despite the wide range of patterns and colors, Melida kept the eat-in kitchen table setting simple using one Crystal Stamen pendant light. Paired with an eclectic loveseat, the table pendant light is a classic archetype that contributes to the interior's balance of contemporary and chic furnishings. That's the beauty of Niche's modern glass pendant lighting - a single pendant light is an elegant and timeless statement on its own!