The Factory Sale is a semi-annual event that is always the most anticipated for Niche customers and employees. For some of our team members, this weekend's sale will be their first. For others, they've spent countless seasons watching eager people flock to tables full of their favorite glass pendants. We asked both new and old Nichlings what they are most looking forward to about the Fall Factory Sale happening this Saturday and Sunday. Here's what they said: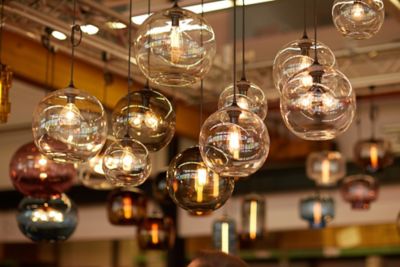 1. Glass Pendant Light Giveaway
Jess, a Niche veteran who has spent time working in the Hot Shop, Cold Shop, and Marketing, has been involved in all facets of the Factory Sale. From taking part in the glass-blowing demonstrations to helping you pick out your perfect pendant light, Jess is no stranger to the rituals of our Factory Sale. But this year, Jess is most excited for the introduction of something new. For the first time ever, Niche will be doing an in-store pendant lighting giveaway. If you stop by our studio on October 14 from 10 AM-6PM, you'll have a chance to be entered into our pendant lighting giveaway. What's better than 50-80% off hand-blown glass lighting? Hand-blown glass lighting that's free!
2. Live Glass-Blowing Demonstrations
Yashu and Chris are new to the Hot Shop, and we are so happy to have them on our team. For their first sale, they are most excited for YOU to watch the glass-blowing demonstrations. On Saturday and Sunday, Yashu and Chris, along with the rest of the Hot Shop team, will be showing you how they make some of your favorite Niche pendants. It is truly magical to watch the process from start to finish, and we can't wait for you to see what we have the pleasure and privilege of seeing every day.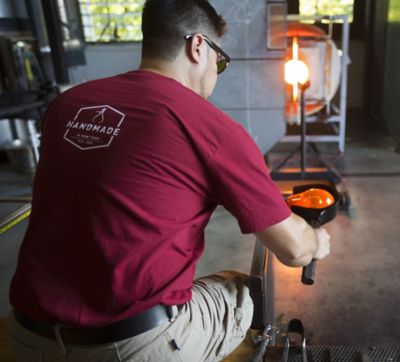 3. Event Photobooth
Samantha from Marketing just celebrated her first anniversary at Niche. This will be her third factory sale, and while she loves everything about this special event, she's most excited for the photobooth that will be available for the first time this year. You will be able to strike a pose and flash a smile with your friends and family as a way to remember all of the fun you had at the Factory Sale.
4. 50-80% Off Modern Lighting
Like Yashu and Chris, Marie is also new to the Niche team. She loves our handmade glass pendants and is thinking about purchasing some for her home. Visit us this weekend to take 50-80% off glass pendant lights. Wondering what the difference is between a pendant that's discounted 50% and one that's discounted 80%? Take a look at our blog of frequently asked questions at the Factory Sale. Can't make it to Beacon this weekend? That doesn't mean you should miss out on all the savings! RSVP to our event and we'll send you a coupon code to use from now until Monday, October 16.