Our Spring Factory Sale is days away! Before you find yourself checking out with your favorite pendants, make sure you have cash on hand. Somehow missed the memo about this sale being CASH ONLY? We've provided a map of banks and ATM's in relation to Niche HQ so that you can stop there on your way to our studio. Please note that credit cards and personal checks will not be accepted.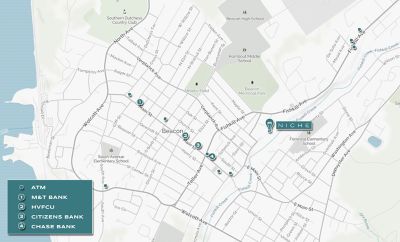 1. M&T Bank
Saturdays 9 AM - 1 PM
2. HVFCU
Saturdays 9 AM - 5 PM
3. Citizens Bank
Saturdays 10 AM - 1 PM
4. Chase Bank
Saturdays Closed (Use Chase card to access ATM)
Please be aware that all ATM's will limit the amount you can withdraw per transaction. It is best that you stop at your personal bank prior to the sale so that you can come fully prepared to shop for discounted pendant lighting. For more information regarding the sale, including directions to Niche, sign up for our Spring Factory Sale Guidebook.