Heading to Beacon, New York for the first time for our Spring Factory Sale? We certainly don't want you to get hungry, so we compiled a guide for you with some top spots to eat! Follow these simple ABCs of Beacon's restaurants, bars, and cafes and your stomach will thank you later!
A is for Artisanal
POPPY'S BURGERS AND FRIES 184 Main Street
Poppy's boasts the "Best Burger" Award from Hudson Valley Magazine and Chef Poppy was a champion on the Food Network's Chopped, so you're sure to pick a winning meal here! Their beef is 100% local, grass fed and humanely raised. For the vegetarians out there, Poppy's also has a veggie burger for you. Decorate your mouth-watering creation with onions, peppers, bacon, cheese, and more unique topping to make it your own! Pssst...spy on the Niche Pharos pendants above the bar!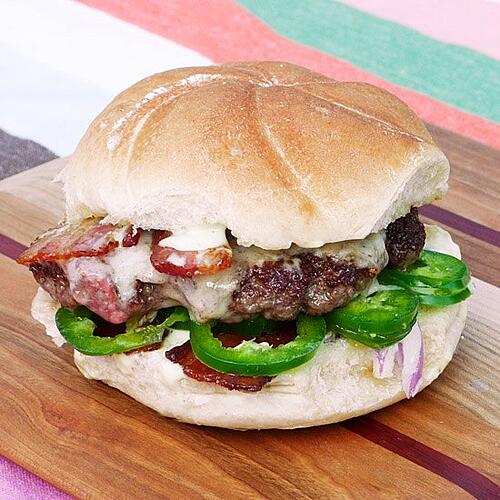 HOMESPUN FOODS 232 MAIN STREET
Even if you've travelled far to get to Beacon, you'll feel the comforts of home at Homespun Foods. The entire menu is local, fresh and homemade - from hearty sandwiches to creative salads, hot soups and generous platters. Selections of dessert, coffee, microbrews, and wine are also available. If it's a nice day, be sure to take advantage of their outdoor patio!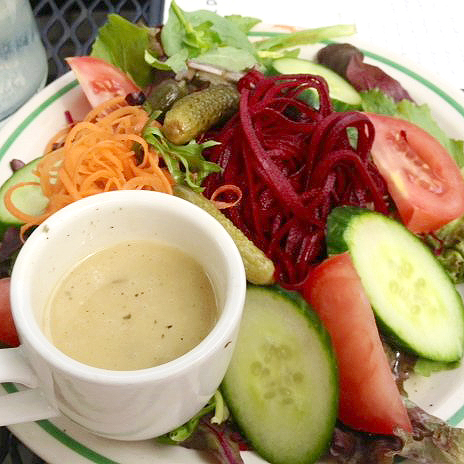 THE ROUNDHOUSE AT BEACON FALLS 2 EAST MAIN STREET
Much like the Niche factory, the Roundhouse is located within 150 year-old structures that once contained a textile mill and machine shop. Situated along the Fishkill Creek, the Roundhouse is now home to a luxurious hotel, wedding venue, and high-end restaurant and bar. On the menu you'll find steaks and seafoods (even octopus!), unique game birds, soups, salad, and other dishes such as macaroni and cheese and risotto. The thoughtfully designed interior features contributions from local artists and craftspeople, including Solitaire Pendants and custom styles from Niche!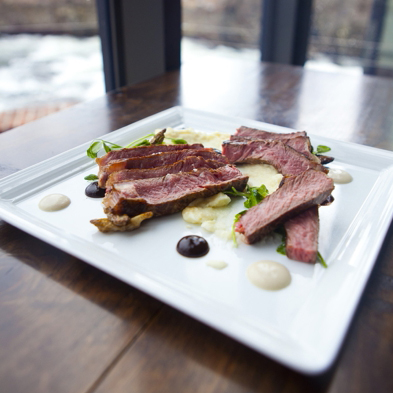 B is for Beer
THE HOP 554 MAIN STREET
You're sure to have a hoppin' good time at The Hop! At their larger and expanded new location, this isn't just any old bar! The Hop takes pride in providing a full retail selection of incredible beer from all over the world. While they will still be offering tastings, The Hop now extends a full restaurant menu!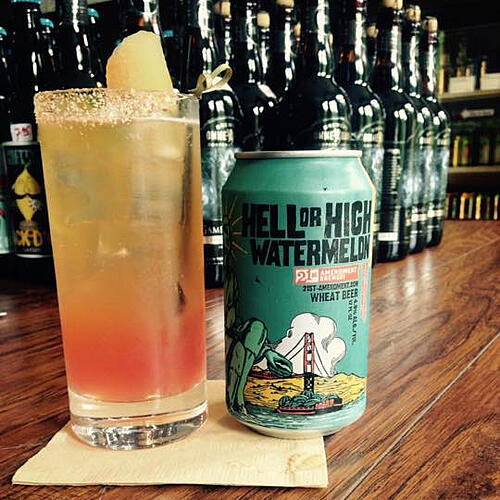 DOGWOOD 47 EAST MAIN STREET
Dogwood Bar & Restaurant provides a rustic yet retro social atmosphere and a familiar escape from the day-to-day routine. With 16 beers on tap, live music and karaoke nights, Dogwood is a warm and welcoming environment for any group of friends, old and new. The draft beer menu is carefully selected and frequently updated to reflect the very best in quality, seasonal and even local options like Rushing Duck Brewing Co. and Peekskill Brewery.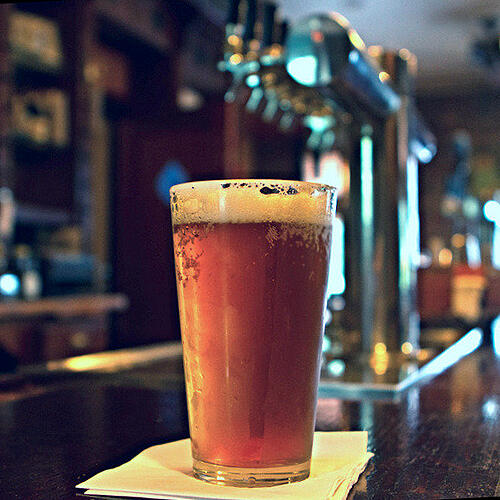 DRAUGHT INDUSTRIES 394 MAIN STREET
Newly opened in the fall, Beacon welcomes Draught Industries to it's downtown nightlife. The quaint, compact bar stands behind their philosophy of "some people collect art, we drink it!" which makes a lot of sense as they boast 20 rotating draughts and are the proud owners of a Flux Capacitator, a creation which helps to serve beer at correct carbonation levels. They are the 6th bar in the United States to have one so come on down and drink up!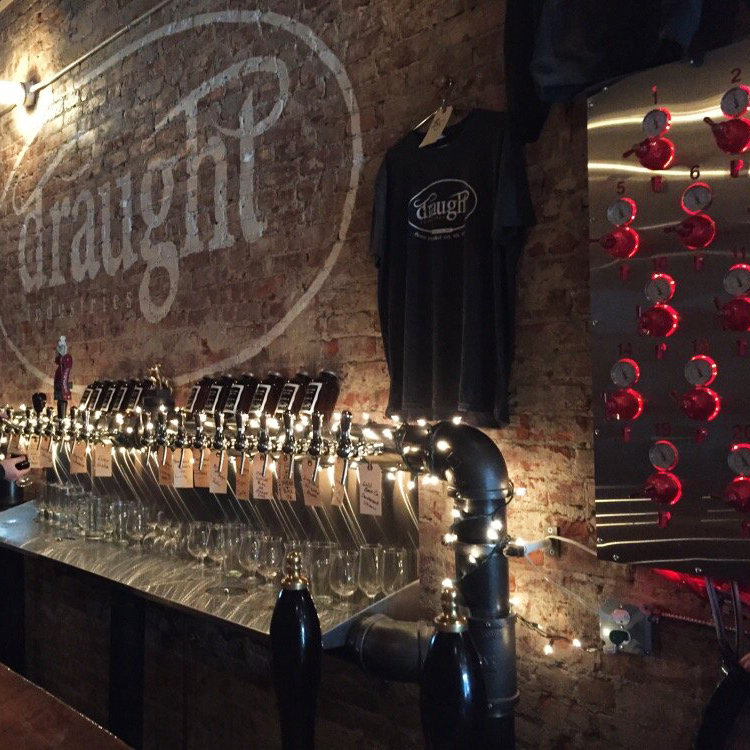 C is for Coffee
BANK SQUARE COFFEEHOUSE 129 MAIN STREET
Bank Square is truly a cornerstone of Beacon, as it lies at the corner of Main Street and Route 9D to greet you as you enter downtown. This cozy coffee shop proudly serves beans from Coffee Labs Roasters in Tarrytown, and offers mixed coffee drinks, smoothies, and teas, a variety of baked goods from local bakeries, and regional craft beer. The shop provides plenty of couches and tables, whether you're hunkering down on your laptop working, or enjoying an open mic night with friends.
ELLA'S BELLAS 418 MAIN STREET
Specializing in gluten-free baked goods and vegan options too, Ella's Bellas has everything for your sweet tooth! Cookies, brownies, muffins, croissants, biscotti, cupcakes, whoopie pies...you name it! The sweet treats are that much tastier because they're made with local ingredients and lots of love. You'll find hot and cold coffee drinks, fresh-made lemonade, soups, quiche, light sandwiches, and even cocktails.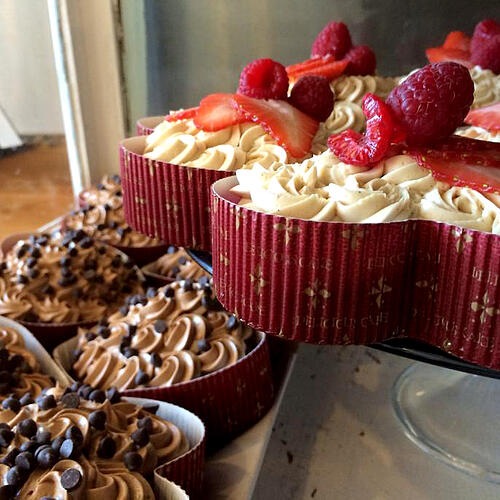 There's even more to eat and drink in Beacon than just this selection, but we hope this gets you started! Sign up for our Spring Factory Sale Guide to have all of this information on the go!