We know that purchasing pendants is a big step and that you may have an endless stream of questions you want to ask before you take the leap to upgrade your lighting. From installation options to bulb choices, we've heard it all. That's why we've compiled a list of frequently asked questions so that you can make the most out of shopping Niche's semi-annual modern lighting Factory Sale this fall.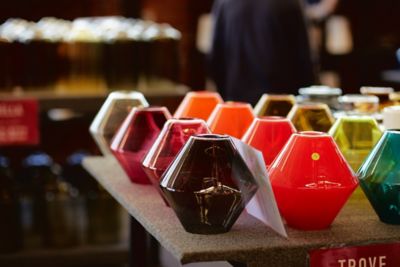 Q: What is the difference between a pendant that is 50% and 80% off?
A: Our handmade pendant lighting is just that - handmade. Sometimes artistic flaws show up in our otherwise pristine glass products. The severity of these flaws is categorized by discount percentage. A glass shade that is 80% off will have more artistic flaws than one that is marked 50% off. That's why you can choose your own unique glass shade! Artistic flaws can appear in a variety of ways, but we always make sure these pendants are safe, secure, and completely functional.
Q: What is included in my pendant purchase?
A: Each glass pendant purchase comes with four items: a glass shade of your choice, an assembled 4' black cord set, a standard incandescent light bulb and a black ceiling canopy. LED and CFL options are available for purchase.


Q: How long of a cord set do I need?
A: Cord sets are adjustable on site. A 4' black cord set is included in your purchase, ideal for standard ceiling heights. If you have high ceilings, consider 12' or 24' cord sets. Pendants are recommended to hang 28-32" above a table and 30-40" above a countertop.
Q: Is a single pendant bright enough?
A: Our lamping options range from 130 to 450 lumens, perfect for warm ambient lighting. Other task light sources such as recessed lighting and lamps are recommended for functionality. For maximum impact, try grouping these brightest Niche modern pendants together.
Q: How do I clean my pendant?
A: We recommend removing your glass shade from the cord set and wearing latex gloves to efficiently clean your pendant. Once removed from the cord set, spray the inside and outside of your glass shade with Windex. Wipe away using a microfiber cloth for a streak-free pendant. Read our detailed guide on how to clean your glass so that your lights always look the way they did when you first take them home.
Have more questions? Download our Fall Factory Sale Guide so that you are fully prepared on the day of the sale.