WHO WE ARE
Founded in 2003, Niche has built a global reputation on a local scale. Our glass lighting products are installed all over the world in restaurants, hotels, and private residences. Our glass studio and office are housed in a gorgeously renovated 20,000 square foot, 100-year-old foundry building located in Beacon, NY. It's a beautiful environment with a great group of people. Heart is at the center of everything we do. At Niche, company culture is very important to us and we value hard-work, honesty and loyalty. We have a small, dedicated team working together every day to produce our beautiful handmade products. We are proud that every aspect of the Niche brand is created in-house. Welcome to Niche.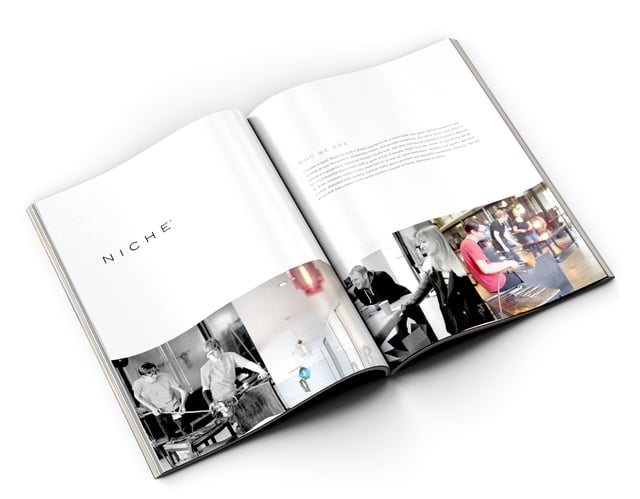 INTERESTED IN A CAREER AT NICHE?
Everything from design to production is accomplished under our own roof by a team of talented, creative and dedicated employees in Beacon, New York. We're always looking for new additions
to our growing team. Learn more about our company
here
.
WHERE WE ARE
There's a reason The New York Times, Escape Brooklyn, NY Magazine, Dwell and other lifestyle trend-setters are calling Beacon one of the top Hudson Valley cities to live in… Are you curious to find out why?
Conveniently located in the heart of the Hudson Valley along the scenic Hudson River, Beacon is just 80 minutes from Grand Central on the Metro North Train line, a gorgeous and scenic ride. Offering all the attractions of New York City at your fingertips but with none of the daily grind of living in a metropolis. Beacon has a great community that is diverse and friendly, it's a place that continues to attract artist and artisans as well as business professionals. Beacon is a cultural hot spot with great people and happenings.
Dia:Beacon, which opened in 2003 as an extension of Dia:Chelsea, is a world class modern art museum home to an impressive collection of minimal artwork. All Niche employees have free admission to the museum, at any time, making it a fun lunch break excursion. Homespun Foods, one of Beacon's most beloved restaurants, operates the café in the gift shop serving something for everyone.
Beacon's Main Street is vibrant and alive with great shops and restaurants. There is an abundance of unique stores, ranging from vintage clothing to utensils to a used bookstore. Many of the restaurants have prestigious chefs with degrees from the Culinary Arts Institute located in nearby Hyde Park. Foodies should feel right at home, and whether you are gluten free or a glutton for gluten, there are several bakeries and eating options that are guaranteed to satisfy both your craving and dietary needs. Unlike some sleepy upstate towns, Beacon doesn't shut down after the sun sets. Many of the bars and restaurants also host a number of touring musicians, and live music can be found almost any night of the week. Every 2nd Saturday Main Street is buzzing with people, art openings, tastings and other community events.
Niche isn't the only artisan-based business in Beacon, our town is filled with talented Hudson Valley makers and entrepreneurs. There is a strong creative community in Beacon, and it's growing every day. Niche is an amazing modern lighting company doing amazing things, the old fashioned way. Made, not manufactured, by hand with love in New York.